Looking to leave the competition in the dust? Smoother Gameplay can result you in winning over that one competitor that's always been one step ahead of you!! Crystal clear gaming quality can help you enjoy the game even more. Graphics cards have always been one thing that's confused a lot of gamers over time. Here's a list of best Graphic card for gaming.
Graphic cards are often called graphic processing units (GPU). All the GPUs we have compiled on this list use PCle 3.0 x 16 motherboard slots and have eight-pin power connections, making them compatible with many current motherboards available in the market for gaming.
Top Graphic Cards For 2020
NVIDIA GeForce RTX 2060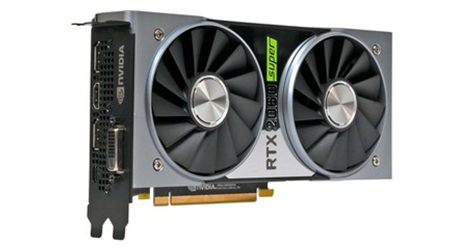 The NVIDIA GeForce RTX 2060 is the new flavor of the season in the world of graphic cards. NVIDIA's brand new technology named Turing technology uses AI and ray tracing to provide a clarity that can't be defined. You have to own it to experience it. It's a miracle that you can get this beast of a Graphic card that provides such smooth gameplay at such a low price. Some Cards with almost the same specs can cost up to five times more than this one. This new card is not available on Amazon but it's better that you get it directly from NVIDIA.
Specification
VRAM: 6 GB
TFLOPS: 6.4*
Memory Type: GDDR6
Memory Speed: 14 Gbps
Power Consumption: 160 W
Base Clock Speed: 1,365 MHz
Dimensions: 9″ x 4.5″ x 2-slot
NVIDIA GeForce RTX 2080 Ti Founders Edition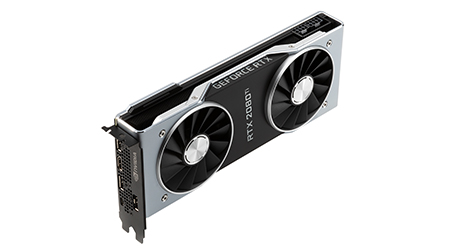 NVIDIA has made a name for itself in the GPU universe, it has been purring out the best graphic cards for gaming for years. This graphic card is absolutely out of this world. If you want to invest in a brilliant graphic card for the future, then this is the one you should go for. The RTX 2080 is capable of executing over 13 TFLOPS, this card delivers more than enough data for today's AAA gaming. As the games keep on growing in terms of processing power, investing in RTX 2080 will keep your future secure by giving your superb gaming quality.
The downfall of this much power is that it consumes a lot of electrical power. This GPU consumes a lot more power than others on this list of best graphic cards for gaming PC. It is also one of the most expensive ones on this list of graphics card comparison.
Specifications
VRAM: 11 GB
TFLOPS: 13.4*
Memory Type: GDDR6
Memory Speed: 14 Gbps
Power Consumption: 260 W
Base Clock Speed: 1,350 MHz
Dimensions: 10.5″ x 4.6″ x 2-slot
EVGA GeForce GTX 1080 Ti FTW3 Gaming
Another great Graphic card for gaming PC on the list. The EVGA GeForce GTX 1080 delivers almost the same performance as the NVIDIA RTX 2080 but It consumes much less power than it. It is also less expensive, it one of the affordable gaming graphics cards. This graphics card has a sexy design built especially for hardcore gamers.
With three fan cooling systems, this GPU can hold out on its own as long as you are kicking the competition. The EVGA GeForce GTX 1080 delivers exceptional performance even during long gaming sessions. The clear gaming images will help you stay cool even with a laggy game or laggy processor.
Specifications:
VRAM: 11 GB
TFLOPS: 11.3*
Memory Type: GDDR5X
Memory Speed: 11 Gbps
Power Consumption: 200 W
Base Clock Speed: 1,683 MHz
Dimensions: 12.8″ x 9.5″ x 2.8″
Gigabyte GeForce RTX 2060 Gaming OC
The Gigabyte GeForce RTX 2060 is similar to the NVIDIA RTX 2060. It's got a different cooling system and less power. It doesn't put out as much power as NVIDIA, but it is one of the best graphics cards for the money. The Gigabyte GeForce RTX 2060 still delivers the best display quality on gaming. It's a newer model in the market but if you are looking to save a little money on the best graphics card for gaming PC, then this is the one to choose!
Specifications
VRAM: 11 GB
TFLOPS: 11.3*
Memory Type: GDDR5X
Memory Speed: 11 Gbps
Power Consumption: 200 W
Base Clock Speed: 1,683 MHz
Dimensions: 12.8″ x 9.5″ x 2.8″
AMD Radeon RX 580
If you are cost-cutting, then going with Radeon RX 580 is the right choice. It is a more affordable gaming graphics card. Under $200, it can handle modern games pretty well. This card is especially good for you if you are only looking forward to playing PvP games like Fortnite or Apex Legends. Those games do require brilliant image quality. But it does not, however, require huge processing power. That's why Radeon RX 580 is absolutely perfect for those who are looking forward to seamless excellent gaming.
Specifications
VRAM: 8 GB
TFLOPS: 6.2
Memory Type: GDDR5
Memory Speed: 8 Gbps
Power Consumption: 185 W
Base Clock Speed: 1,257 MHz
Dimensions: 8″ x 5″ x 2
What should I consider while Choosing the right Graphics Card?
In the end, it's all about performance. Some graphic cards can put out a better performance than others, but they are equally costly. Knowing what your gaming needs can be helpful when you are looking to upgrade to a better gaming console.
VRAM: Video Random Access Memory (VRAM) is the amount of space your graphic card has to process digital video information. Higher VRAM means better processing of digital video information. Higher VRAM can deliver more efficient, which in turn gives you smoother animation for your high-end games.
TFLOPS: Floating Operations per Seconds (FLOPS) is the number of changes a GPU can process in a second. Most of the high-end Graphic card for gaming PC can handle trillions of FLOPS, as the large numbers are represented with Tera, that's why this function is known as TFLOPS or TeraFLOPS. More FLOPS is a good thing as it can translate more changes quickly. More FLOPS means a better gaming experience for you!
Memory Type: This function used to matter a lot in the earlier models of graphics cards for gaming but now most of the graphics card uses GDDR5 as the base version of memory type so it is less relevant to think about this function while buying a Graphics card. If you are looking for more power then there are models available with GDDR5x & GDDR6 memory type.
Graphic Card Compatibility
A great graphics card is up to no good when it is not even compatible with your PC. Most graphics card comparison leaves out this part. Here's all you need to look into before investing in a graphics card for your Gaming PC.
Make sure you choose a GPU that fills into one of the card slots on your motherboard. This will usually be determined by the length of the GPU slot and the type of memory it uses.
The GPUs in our list use a PCle 3.0 x 16 connection. This means they use a peripheral component interconnect express (PCIe) version 3.0 and require a 16 channel slot to operate perfectly.
Most of the modern motherboard has a 16 channel slot for GPU and they all use a PCIe protocol. But some Motherboards still use AGP protocol. And obviously, you can't use a PCIe GPU with an AGP motherboard.
Your GPU needs power, so make sure that your computer has the right power supply. The connections come in all sizes and variety and they range up to a maximum of 16 pins and a few of them are adjustable so you can configure them in different ways. Our list of graphics cards for gaming contains 8-pins.
The power requirements for we have recommended vary from 150W to 260W. So to use these cards, your power supply should provide you somewhere between 450-780 W.
Monitor Quality For Gaming Experience
Your video display will only be as good as the quality of your monitor and your graphics card. Price ranges on monitors and graphics cards are almost similar so spend the same amount on both or you'll be stuck with one good equipment being dragged down by a bad one.
Types of Graphics Cards for Gaming
Onboard Graphic Cards: As the name suggests, these are the cards that come pre-equipped with the PCs. They're called onboard because instead of plugging into one slot on the motherboard, these cards are fixed on the motherboard.
AGP: Accelerated Graphics Port or commonly known as AGP are plugged into AGP slots in the motherboards, these cards are compatible with many motherboards but they aren't as fast as PCIe cards. The speed limitation of AGP cards has caused a decline in popularity, which will make them obsolete.
PCI: Peripheral component interconnect graphics cards are also named after the kind of connection they use. PCI cards are being replaced by faster versions known as PCIe cards.
PCIe: Most of the modern-day graphic cards are Peripheral component interconnect express (PCIe) cards, they are faster than the other graphic cards today, and they are perfect for the modern-day gaming.
All Set For Crystal Gaming!
Now with all the knowledge, you have about graphic cards. You can pick yourself a perfect graphics card for gaming PC. Gear up and build your very own badass gaming kit.